Publication
Modern Campground
Published
April 18th, 2023
Spacious Skies Campgrounds has recently made its way to the Peach State with the acquisition of Savannah Oaks RV Resort, which it has renamed Spacious Skies Savannah Oaks. This is the company's 15th campground, marking its first in Georgia.
The campground is located near the Ogeechee River, just west of Savannah, which is the oldest planned city in the United States.
This campground provides a total of 115 RV sites that can be booked through a call or by going online starting April 24.
The RV sites have plenty of on-site amenities including a playground, a basketball court, a dog park, a bathhouse, laundry facilities, a boat launch, a tetherball, and a horseshoe pit.
To ensure guests have the best experience possible, Spacious Skies has comprehensively assessed the condition of the campground facilities and planned infrastructure repairs, and the addition of guest amenities.
The company plans to install new playgrounds, add a jumping pillow, repair the pool, enhance sites with fire rings and picnic tables, make well improvements, pavilion repairs, road paving, store clean up and updates, and more. All of these improvements are set to be accomplished in phases.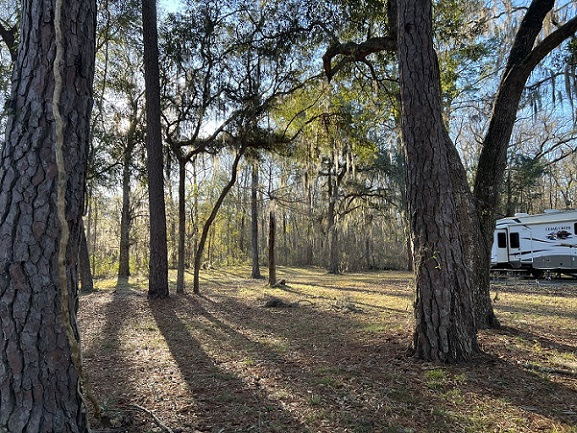 Ali Rasmussen, the co-founder of Spacious Skies Campgrounds, expressed excitement about adding a campground in a region with such rich history, outdoor recreation, and quintessential Southern charm.
"We expect a healthy mixture of campers seeking a cultural destination and those looking for a fun stop on their way north and south," Rasmussen said.
Additionally, the company has several other locations that stretch north all the way to Maine and west to Tennessee. This new acquisition will be Spacious Skies Campgrounds' southernmost campground, further expanding its regional growth strategy.
Guests are guaranteed a lot of attractions near Spacious Skies Savannah Oaks. These attractions include Savannah's famed River Street, the Golden Isles, Tybee Island, Forsyth Park, Okefenokee Swamp Park, Wormsloe Historic Site, Midway Colonial Museum, Georgia Coastal Colonial Gardens, Fort Frederica National Monument, Fort James Jackson, and Fort Pulaski.
Spacious Skies Campgrounds is a fast-growing owner and operator of RV campgrounds with RV, tent, cabin, and glamping sites across 15 locations from Maine to Georgia. The company's mission is to offer a fun, relaxing, and authentic campground experience in destinations with abundant outdoor recreation and attractions.
Spacious Skies Campgrounds is executing a regional growth strategy while at the same time improving amenities at all properties to provide guests with consistent and reliable accommodations, service, and access to the great outdoors.
The acquisition marks a noteworthy expansion in the company's portfolio of campgrounds. This is a testament to the company's regional growth strategy and commitment to providing guests with a fun and relaxing outdoor experience.
The comprehensive assessment of the campground facilities and the proactive plan to repair and add guest amenities ensures that Spacious Skies Savannah Oaks will meet the needs of today's camping enthusiasts.